Hello, I'm Zeynep and I am the designer for Labum.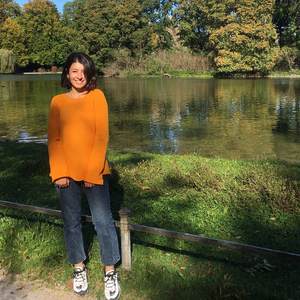 Handmade products, especially knitted designs, have always attracted my attention and I've been interested in my mother's handicrafts since childhood. This learning adventure started with knitting scarves, progressed to designing sweaters and. over time, even bags.
In 2015 we started presenting our designs to you on Instagram. For us, the most important thing was to ensure that our products are made from high-quality materials. We carefully choose the yarn used to produce our accessories that will help enhance our visual designs and highlight the details while adhereing to our standards. Although the material varies depending on the model, this rule always takes precedence.
After a while we opened a website for our store. However, we were eager to present our products both in Istanbul and in Munich and did not want to rely solely on our online presence.
Having our products at Hands Gallery gives us a great opportunity to become more connected with our customers. This year we are ready for winter with a selection of hand-knitted wristwarmers and scarves? We've created a wonderful collection for you at Hands Gallery by complementing these with our wallet and clutch designs, which are an indispensable part of Labum Design.
We're so happy to share our excitement about this new possibility with you . Please visit our website and let us know if you have any questions or if there is anything we can help you with.