The Concept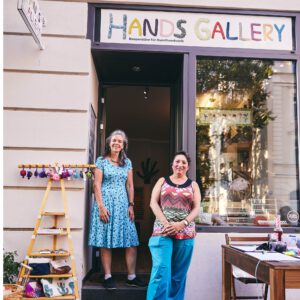 There are a multitude of people who are artistically-minded and create unique items on a professional level, but who have no outlet for their products. Hands Gallery is a cooperative of artisans who work together to realize the dream of having their own store.
Together they can rise to the challenge of filling a store with products, while at the same time inspiring one another and benefitting from each other's unique perspective and specialized knowledge.
Philosophy
In today's consumer society the trend away from mass produced products is growing. Industrially manufactured goods are finding less and less acceptance and the resulting 'disposable products' are often associated with great dissatisfaction and discontent. The desire for high-quality one-of-a-kind products is growing.
This is one of the driving forces behind Hands Gallery and its selection of unique handmade products. Every item is individually crafted by hand, providing customers with a one-of-a-kind product that can't be found anywhere else.
Creativity
Creativity is a part of my life and makes me very happy. At the same time I am not afraid to pass on the what I already know. My experience has taught me that even if two people are making the exact same thing, the result will be two different items. That is one reason why I am ready to share my knowledge and skills.
Everyone is creative - usually a person has a preferred art form to express themselves. That's why, to me, a cooperative is a logical conclusion. Each artist does what they do best, inspiring themselves and the other members.
Plus, the cooperative allows us to provide a greater selection of products to our customers. More products mean more possibilities to express your own creativity with the items you choose.
Meet the Artists
Not only is it important to guarantee a certain amount of continuity with our products, it is essential to allow the customers personal contact with the artists. For this very reasons the artists who are members of the cooperative are obligated to work in the store a few times each month. This allows them to meet potential customers, take orders, listen to praise or criticism and exchange ideas with others.
I specifically decided  to have a bricks-and-mortar store because these conversations and meetings are very important to me. Talking to someone in person, listening to their needs, be it for themselves or while searching for the perfect present for someone else, is an important service we provide. These conversations are not only fun, challenging and inspiring, they also help me provide the customer with a better product. By uniting their vision with my know-how the end result is better than the original idea.
If you feel the same way, stop by the store - let's talk!
Can I sell here?
Maybe. There is only limited space in the Cooperative and not everyone feels comfortable with us. But there are always new and different events, where artists can show and sell their wares.
I am very open for new things and definitely recommend that you contact me. Who knows what the future holds? Meeting new people is always beneficial - a time to exchange experiences and learn from one another.
I would love to hear from you, see your products or talk about pricing, markets in Munich and other aspects of creativity.
Although I am at the store most of the time, it would be best if you contact me in advance per e-mail.  Then I can let you know if your products fit our selection, what the conditions are for you to sell them in the store and we can make an appointment to meet.  That way you can see the store and we can talk in person before you commit.  Just contact me at claudia@handsgallery.de.