The Hands Gallery is relieved and I am so happy to be back working at the store, meeting customers (even if we are 1.5 meters apart) and getting back to daily life. Another great thing about re-opening is that we also have a new guest artist – Jutta Körner with her ceramics. Jutta produces sculptures and other objects 'Kunst in Ton' – Art in Clay.
At the store we have a selection of Jutta's sculptures and ceramic objects. Her vases are brightly colored and the soap dishes go well with our selection of soap by Münchner Waschkultur.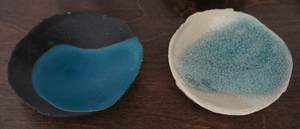 Naturally all our other standard products are also available at the store – from quilts to matchsacks and hip packs, as well as jewelry, cards and knitted products. I'm looking forward to seeing you at the store soon!